The founder of The Power to Reinvent, the platform that gives you the power to achieve your goals (in less time).
Over the past ten years I have transformed the lives and businesses of individuals, in less time than they could ever have imagined.
Now it's your turn.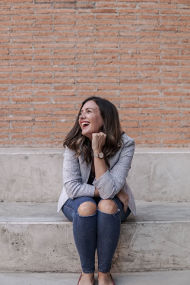 It's time to get out of your own way and start achieving what you want
You deserve to live with purpose and passion.
You have your own inner power to create an abundant life and business.
It's time to give yourself permission to go after what you truly want in life. You can live your dream life. You have the ability to fast track your success.
I know this because I have helped myself and individuals achieve what they want through the 'magic' of goal setting.
Our goal setting 'magic' comes from our proven system
Our system is POWER Goals. It combines the best parts of SMART goals, psychology and Neuro Linguistic Programming (NLP). It is this system that helped reinvent my own life.
I stepped out of convention, quit my 9-5 job, and built my business from the ground up. The Power to Reinvent enables me to reach an audience worldwide, and live life on my terms. I love the location independent lifestyle that I created with my husband Chris.
Whether you are creating own business. Growing an existing one or working on ambitious personal goal. The Power to Reinvent exists to serve ambitious goal-getters — like you.
I am dedicated to helping you design life that you are 100% in love with.
I understand going after your dreams is scary. I work consistently on my mindset and still have some WTF days where I feel clouded in fear and self-doubt (I am a human being after all).
That's why I am passionate about bringing you the best resources from my learning and experiences.
Resources that will truly give you the power to set and achieve your goals (in less time).
If you are serious about setting goals and getting what you want from life, start your journey with our ultimate goal setting guide here.
The Power to Reinvent is a digital platform built with passion and commitment
We are proud and dedicated to empowering people like you, to live the life they want.
We provide high quality free resources and professional paid for services. Every service and resource we supply is created with expert knowledge, passion and with the overall aim to help you, achieve your goals in less time.
Start Achieving Goals Now
There's no better place to start than with our ultimate four step guide to achieve your goals. Just click the button below.
I am thrilled we have connected and I am excited to share the journey ahead.
Want to read more about my professional qualifications and experience? Access my bio here.
Heard about flow?
I'm super excited about my new book Find your Flow. To find out more head on over to Find Your Flow The Book.